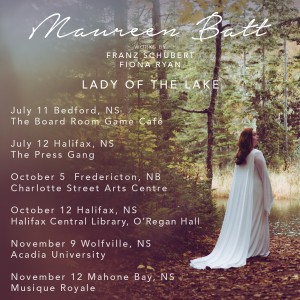 Party Time! You're Invited!
Lady of the Lake has officially dropped and we want to party! We have two events – one in Bedford on July 11 and one in Halifax on July 12.
July 11, 6PM
Board Room Game Cafe
936 Bedford Highway
$5 admission to the cafe
Buy a $20 CD and admission price is waived
Come to the Board Room Game Cafe on the Bedford Highway on Tuesday, July 11 at 6PM. You'll have a chance to greet the artists on the album, we'll sing you a few ditties, then we can play some games! The official parts of the event will be between 6:00-7:00pm. Then games and hanging.
July 12, 3:30PM
The Press Gang
5218 Prince St. (between Barrington & Argyle)
Free admission, but reserve your spot HERE
Come to the Press Gang downtown Halifax on Wednesday, July 12 at 3:30PM. Mix and mingle with the artists on the album, and then we'll sing for you before resuming more mixing and mingling.
The official parts of the event will be between 3:30-4:30PM. The Press Gang opens its regular service at 5PM, so plan to stay on and have some food and bevvies, if you're so inclined! (The bar will be open for us for our event).
Maureen Batt, soprano
Jon-Paul Décosse, bass-baritone
Simon Docking, piano
Fiona Ryan, composer