A huge thank-you to those who joined me and Cheryl on the inaugural tour of Crossing Borders: A Celebration of New Music from New Mexico to Nova Scotia! We had a magnificent time in Halifax, Philadelphia, and Toronto! We're already planning for season 2!
The day before our final concert, we found out that the SOCAN Foundation had approved our proposal and was supporting our Toronto event!! THANK YOU, SOCAN Foundation!!!
If you followed the event on social media (or if you're part of my mailing list) you already saw various pictures and shenanigans, but for now here's one recap photo.
Top left: SOCAN Foundation logo (who supported our Toronto concert)
Middle left: composers Kala Pierson and Monica Pearce with Cheryl Duvall and me at the Philadelphia concert, Biello Martin Studio
Bottom left: me and Cheryl with composer Fiona Ryan at the Halifax concert, St. Andrew's Church
Top right: Cheryl and me with composer Martha Hill Duncan at the Toronto concert, Heliconian Hall
Bottom right: composers Monica Pearce and Elisha Denburg with me at the Toronto concert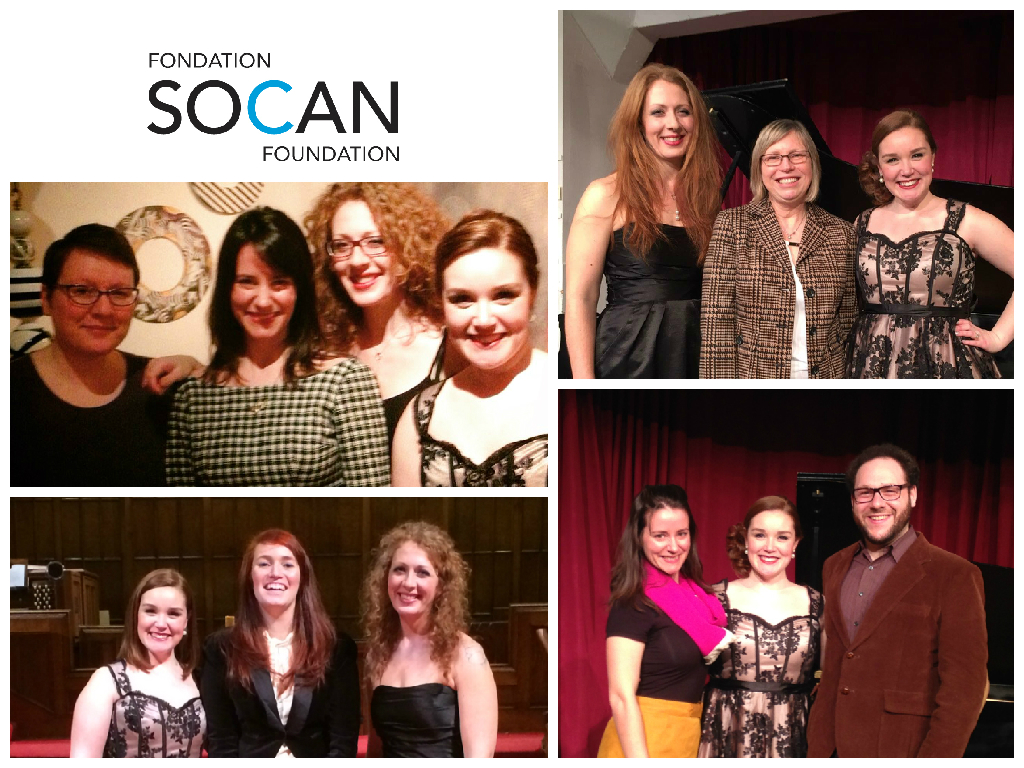 Crossing Borders featured works by the following composers:
Stephen Bachicha
Elisha Denburg
Melissa Dunphy
Matthew Emery
John Lawrence Greer
Jake Heggie
Martha Hill Duncan
Anna Hostman
Monica Pearce
Kala Pierson
Fiona Ryan